Viroqua Chiropractor is Offering Free Spinal Checks for Scoliosis in August
Viroqua Chiropractor is Offering Free Spinal Checks for Scoliosis in August

This month we are offering free spinal checks for scoliosis in Viroqua.
What the heck is this condition?
If you look at the back of an individual it is the sideways deviation of the spine. This abnormal curvature can lead to a lifetime of health problems including chronic spine pain, breathing problems (the ribs can twist so badly they compress the lungs), heart problems (the ribs can crush the heart), and other chronic conditions.
If you notice your child, grandchild, or loved one with shoulders, ears, or hips that look off balance (one higher than the other) it could be the beginning of this devastating condition. Doctors of Chiropractic are highly trained to detect this condition so if you have any doubts of a loved one having scoliosis I encourage you to make an appointment today for a complementary scoliosis examination. We will only tell you if we suspect this condition or not and you can decide the type of treatment you want.
---
Health Tip - Headaches
Backpack Safety - What Does Your Child's Pack Look Like?
Backpacks: An over-stuffed, incorrectly packed or worn backpack can result in a serious injury and affect young developing spines.
How heavy is too heavy? Even a backpack weighing 15 percent of a student's body weight is too heavy to maintain a standing posture. This will cause undue stress on their young spines and can cause vertebral subluxations leading to postural changes and even scoliosis.
The current recommended guidelines is a maximum of 10 percent of your body weight should go into the backpack. This means if you weigh 80 pounds, then 8 pounds is the maximum. So with today's primary school kids, after you put the lunch box and water bottle in you are already at the maximum weight.
To further minimize impact of the backpack, it is also recommended that both shoulder straps be used to help distribute the backpack's weight evenly between the shoulders. And then the waist strap should also be used, to help distribute the weight onto the hips away from the shoulders.
In addition to creating chronic backaches for years to come, improper use of the backpack will trigger neck and shoulder disorders. A study from the University of Sydney showed that the backpack's weight and length of time worn had a direct correlation with neck and shoulder posture. The study concluded with that forward head posture increases when carrying a backpack with a heavy load. When we adopt forward head posture, it leads to straightening of the normal curve of the neck, a condition linked with osteoarthritis, headaches and neck pain.
---
Sam's Insurance Desk
Summer is winding down.
The new school year is just around the corner. With the new school year comes another year of hauling around those heavy backpacks. There are do's and don'ts to proper fitting and packing of backpacks. Years of carrying the load can lead to future problems.
Come see us at Vernon Chiropractic in Viroqua on Saturday August 25 from 11:00 A.M to 1:00 PM bring your backpack if you want and get not only tips on proper backpack usage but meet the staff and have a hot dog or brat on us.
We appreciate all our patients and want to give a big THANK YOU to you.
See our flyer in this newsletter and around town.
---
Upcoming Event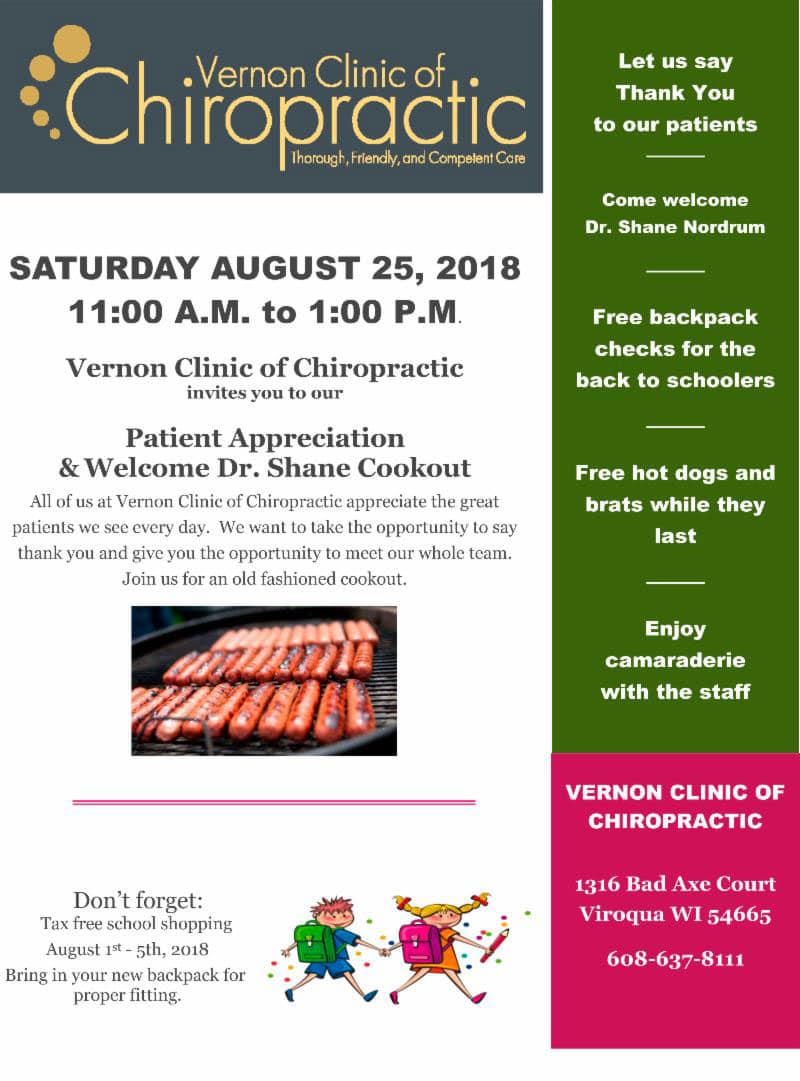 ---
Chiropractic Talks in Viroqua
Listen to Chiropractic Talks with Dr. Kris on the Radio
Listen to Chiropractic Talks - LIVE -- with Dr. Kris Erlandson
Each Tuesday and Thursday at 6:50 am on WVRQ,102.3 FM, right after "Hello Neighbor" with Karen Dahl.
Each broadcast Dr. Kris offers health advice for you and your family and friends. If you know anyone who wants to know better methods for improving their health, have them listen to Dr. Kris.
When: Each Tuesday and Thursday at 6:50, after "Hello Neighbor" with Karen Dahl.
Where WVRQ,102.3 FM
What: Practical NATURAL health Tips
---
Supplements
Nutrition for Scoliosis
Vitamin D3: Is important for growth, development and maintaining bone density.
Magnesium: A high percentage of patients with scoliosis appear to have magnesium deficiencies. Magnesium is important for muscle, bone and spinal health.
Omega-3 fish oil: Is a natural anti-inflammatory that helps reduce pain and aids healing.
Turmeric: Anti-inflammatory supplements like turmeric / curcumin can be used for lowering chronic pain and inflammation.
---
Recipe Corner
"If you are interested in treating yourself and your family to a healthy snack, here is the ultimate chocolate pudding. A little gives you the chocolate fix you might be looking for. " ~Jo
DECADENT CHOCOLATE
Ingredients
6 Tbsp date paste
1/2 avocado
4 tbsp high quality cocoa
2-3 tsp water (optional)
Directions
Place all ingredients in a food processor and purée until smooth. Add 2-3 tsp of water if mixture is not blending.
---
Ole and Lena Humor
Ole's dream had always been to leave Minnesota and see the ocean. He would always try to get Lena to take off and go to Cape Cod, but she always said she couldn't leave because of work. Finally, to get Ole to stop pestering her, she told him he should just take the trip by himself.
Ole made it to Cape Cod all right, and was completely in awe when he finally got to see the ocean. He wandered up and down the beach, amazed by its size. Not looking where he was going, he accidentally kicked over a half-buried bottle in the sand. In a huge puff of smoke, a genie appeared. Thankful to be released, the genie offered Ole one wish.
"I can't help but wonder what the ocean looks like from the other side", Ole said. "I'd like you to build me a bridge all the way across the ocean so I can walk to the other side and see the view." The genie, realizing the complexity of his wish, told Ole to try to think of a little more realistic wish. Ole said, "Back in Minnesota, people tease us Finnlanders about being kinda dumb. I wish you could make us seem as smart as all the other people."
The genie replied, "Did you want that to be a two-lane or a four-lane?"
OFFICE HOURS
---
Monday
8:00am - 5:15pm
---
Tuesday
7:00am - 11:00am
---
Wednesday
8:00am - 5:15pm
---
Thursday
Closed
---
Friday
7:00am - 2:15pm
---
Saturday
Closed